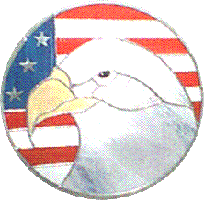 Finished American Eagle
Step One: After choosing my pattern, I make 2 copies. One to cut up and another for the layout of my cut pieces. I use the "Paper Doll Method" of laying out my pattern. The cut pattern pieces will be glued onto the glass. The pattern is also known as a "Cartoon".

CLICK ON IMAGE TO SEE LARGER VIEW

Step Two: Cutting the pattern

These are special scissors, which have 3 blades. They remove a thin strip of paper, the same width the foil will displace. This will insure your panel doesn't "grow".

CLICK ON IMAGE TO SEE LARGER VIEW

Step Three: Scoring the glass around pattern.

You will need to score the glass around the pattern pieces. Scoring breaks the glass' surface tension, enabling you to "run" the score line.

CLICK ON IMAGE TO SEE LARGER VIEW

Step Four: Breaking the glass.

After scoring the glass, you can use running pliers or breaker / grozers to separate the glass. On some straight score lines, you can separate the glass with your hands. (Always wear safety glasses when breaking glass!)

CLICK ON IMAGE TO SEE LARGER VIEW

Step Five: Grinding the glass.

After breaking out the score, it may be necessary to smooth the edges and fit the glass to the pattern layout. A grinder with a water cooled diamond bit or grozing pliers are helpful tools to have. (Always wear safety glasses when grinding glass!)

CLICK ON IMAGE TO SEE LARGER VIEW

Step Six: Applying Foil.

When the pieces are the sizes you

need, you will use a special foil. It is copper on one side and adhesive on the other. Center the foil on the edge, then wrap the excess around the glass, taking care not to touch the adhesive. Do this with each piece of glass.

CLICK ON IMAGE TO SEE LARGER VIEW

Step Seven: Burnishing the foil.

After the foil is evenly wrapped around all edges of the glass, it will need burnished. This will insure the foil is tightly adhered to the glass. This is done on all the edges and on the top and bottom of each piece.

CLICK ON IMAGE TO SEE LARGER VIEW

FOILED EAGLE

CLICK ON IMAGE TO SEE LARGER VIEW

Step Eight: Soldering the foiled pieces together.

To solder you will need a soldering iron, solder and flux. (Flux is an acid which cleans and prepares the copper foil to accept the molten solder.) The solder used with the copper foil technique is 60% tin and 40% lead.

Tack solder each piece to the next. This will keep your work from moving out of alignment. Now you can run a nice rounded bead along each seam. When you come to an "intersection" hesitate with your iron for a few seconds to let the solder flow into the other seams. This will accomplish a nice smooth joint. Letting the solder liquefy and flow will make the difference in a good finished bead and an excellent one. Take your time. Let the project cool and turn over to finish the other side.

SOLDERING FOILED SOLDERING FINISHED

PIECES TOGETHER

CLICK ON IMAGE TO SEE LARGER VIEW

Step Nine: Cleaning and Patina.
After soldering, you will need to wash and rinse your panel thoroughly. This will remove any flux residue. Now you can apply a patina or you can leave it silver colored. Patina is a chemical that changes the color of the lead. You can make it black, copper or leave it silver. If you apply a patina, wash the panel again to remove the excess patina from the glass.
You are now ready to wax or polish your panel. This will help retard the oxidation process and make the glass shine.
Hold it up to the light and be proud!

Below are pictures of some tools you will need for doing stained glass.
Glass cutters, grozers

and running pliers.

The term "glass cutters" is a misnomer, you aren't really cutting the glass, you are breaking the surface tension.

Glass saws and metal chop saw.

Glass saw is used for intricate, difficult cuts. The metal chop saw makes short work of cutting zinc or brass channel.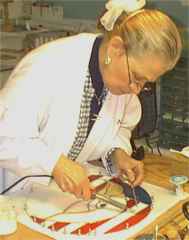 The stained glass artist that made this piece.
This information is meant to give you an overview of the steps necessary to accomplish this technique. By no means is it the only way to do copper foil. On the contrary, there are at least 3 different ways to just put a pattern to glass. There are many wonderful teachers out there waiting for a chance to teach you. Some super instruction books and videos available. Many resources on the web. I just hope I have sparked your interest to pursue this wonderful addicting hobby.
Thanks for visiting!
The American Eagle pattern is from: Suncatchers and Stones by Marrick Studios.
The finished panel was donated to Button Gwinnett Elementary School in Hinesville, GA.
The American Eagle is the school's mascot. The students also saw a video on how it was made.